One of my favorite photos of the trip, Blowhole in alpenglow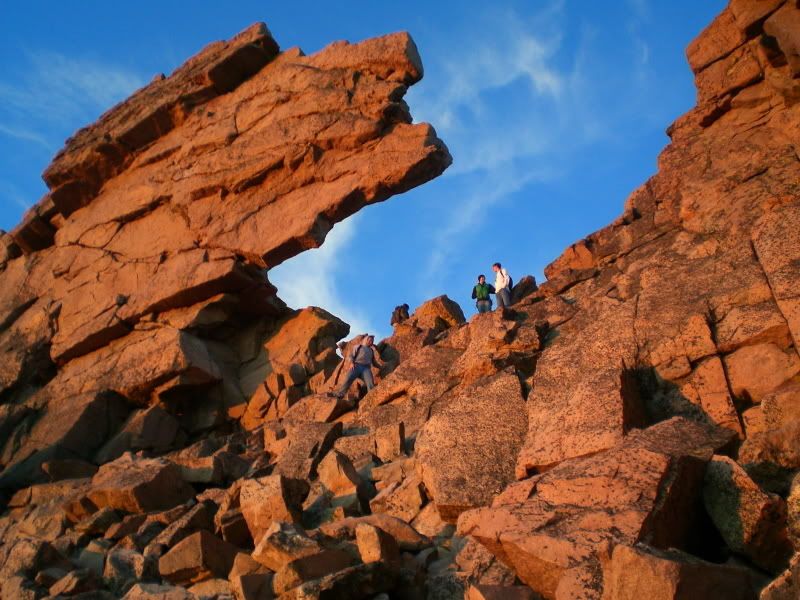 OK however I write this it's gonna dang sure be anticlimactic but here goes. Regular readers of this forum know of my heights thing and apprehension going into this climb/hike. As a kid I was never the one that climbed to the top of the tallest tree but I climbed tractors, combines, windmills, and barn haymows. So where the heck did this irrational fear of heights come from. Was it genetic from my grandma that ascended Pikes Peak from the backseat floor? Was it the small plane ride where our pilot ran us out of fuel somewhere west of Burwell in the Nebraska Sandhills in the middle of a very dark night? Was it a holdover from my ATV wreck of 2003 as I realized I am not bulletproof and bad things do occasionally happen to people, To quote Dale Jr talking about rookie drivers "they are pretty fast until they hit something hard." I had indeed hit something hard and I am more cautious now. But in the end it just don't matter 'cause its there and I gotta deal with it.
I have wanted to try this the last 2 trips and for one reason or another it hadn't worked out. The weather this time was not looking too favorable but at the last minute Friday didn't look so bad. I had a credit at the Colorado Mountain School and I thought this would be a good chance to use it. I did a half day prep class thing with some rock climbing in a harness and really felt pretty good by the end of it. My guide Mike assured me nothing we would face was anywhere near as tough as what I had just climbed. With that in the bag all that was left was to meet Friday morning at CMS at 1 am. Mike and I were on the trail by 1:30 am and steamed on pretty good. At first we were leap frogging the same hikers, then soon we passed them and didn't see them again. I had committed to a slow and steady pace and we only stopped to do a GU hourly. My guide talked to some "Diamond Climbers" who had overtaken us and then they turned to Chasm Lake and we continued on the Keyhole route. With the moon nearly full we could see pretty well without headlamps, the first time I really looked back we were probably well above 11k as we were almost even with twin sisters. The lights of Longmont were very visible as well as those from Boulder would be slightly higher up. It was still very dark when we entered the Boulderfield but you could make out the hulking outlines of Longs in the semi-darkness. We stopped and had breakfast and put on some layers. On the verge of getting cold we were anxious to hit the boulders. As we continued the Keyhole began to come into view. It took about an hour from the Boulderfield to the Keyhole, like in Vegas when you think that hotel in the distance is just a few blocks away, and an hour later you are still walking. I had read in one of the guide books not to pause at the Keyhole just step right through and go a little ways then regain your composure. Now the real climb was beginning, I did another Gu and popped through the keyhole. "Wow that's not so bad" I told Mike and I hit the burners scrambling the ledges. Mike had to catch another gear to keep up and he later told me he had visions of me getting too far out front. That was about to change! Being the trip report junkie I am I remembered something about a steel bar cemented into a rock somewhere on the route. I asked Mike where it was and he said just ahead. Bang there it was, that didn't look so bad but as I popped up on top of the rock with the handle I saw I had to step down about 3 feet and make a hard left on a step the size of the seat of a kitchen chair. The holds were good but the footing a little loose but still very safe. I negotiated the little move and froze. Looking up the route got steeper with a fin of rock with decent steps. We let some people pass and I watched them negotiate the fin steps. Some made it look easy and some needed a parachute as they clumsily slip slided their way up. That wasn't helping. Mike pointed out the trough and we were nearly there. You could also make out folks negotiating the chockstone. I thought if I am having trouble here how on earth will I get over that and make it back down let alone those first few steps of the Narrows. I had to go back, I had let my thoughts wander and now the wave was very strong. I worked my way back across that little section and just stood there trying to regain my composure. I got it together and Mike suggested I try it again and I did and made it just fine again. When I looked at the ledge step that had given me pause I noticed there was another ledge just 8 feet below, the only kicker was below that Glacier Gorge was a fair amount lower. I guess I can deal with 30-40 feet rising from a flat surface but not a protective ledge with the Gorge, how should I say this, much below me. Most of you will have no problem with this as there was very little real danger. My little voice was saying "go back, go back" no matter my attempts at rational thought. We spent a half hour there and I pulled the plug and we headed back to the Keyhole. On our way we passed a Mennonite farm family, the father and son in wranglers and jean jackets, Nikes (dressed like I do when heading to the corn field sans the Nikes) and a 20 oz bottle of water. The wife and daughter in the usual flour sack dresses and the same shoes and water bottle, tripping their way along. No pack, no rain gear, no hat, hmmm. Here I had all the latest tech gear and a guide and I am heading down. At the Keyhole we met a lady about my age paralyzed in fear at what didn't bother me. Everyone is different. We had made smoking time on the way up and it wasn't much after 7 at this point. I really didn't want to go down yet, so I asked Mike about a jaunt to Chasm View and he was game. He also mentioned possibly summiting Mt Lady Washington, but when you get close enough to see what a talus pile that mountain is it just didn't appeal to me. We traversed to just below what is officially Chasm View and took it all in. After lunch and a few z's we booked it down. Rain and thunder hit right about tree line. Mike and I wondered about that Mennonite family basically unprepared on the mountain. We met Lynda in the parking lot by 2 pm.
All in all it was a very good day. I was tired from lack of sleep but had plenty of gas unspent on the journey not traveled up through the trough. I wasn't even sore the next day and did my 8.2 mile run on Sunday faster than I had all summer. From the comfort and safety of my easy chair I wish I had made it to the top of the trough. At the moment the fear was real even if the danger wasn't but I gave it a shot……. A little more commitment than driving TRR and buying an ice cream cone not that there is anything wrong with that, we do that also. Will I try again, I just don't know. Thanks much to Lynda for putting up with my rumination over this, thanks to Igloo Ed a real mountain man with helping me look over the edge, and CMS and my guide, they are truly professionals. He didn't try to push me off the edge even once, no matter what Erik says!!
At John's advice I will trickle out photos from the hike in the coming days.