I apologize for the length of this, but for Pete's sake...it's an 18 hour hike!!
I'm still not sure how all of this came about. I made a comment (not the first time my mouth has written a check my butt can't cash) on a Forums post about how I would love to try Longs someday, but didn't think we had the fire power. Like most off the cuff comments, I figured this would just pass without any further comment. The next thing I knew it was "Get Bill Up The Hill" and 20+ people were in on the adventure.
The idea of doing Longs was appealing and scary at the same time. Too scary. So scary in fact that Sandy & I both never seriously expected to do more than the Keyhole. I have a real aversion to exposure...truthfully that should read I have an extreme fear of exposure. People seldom fall off the sidewalk and plummet to their death. People do however, fall off cliffs and mountains all the time. I could find no sidewalks on any maps of Longs...
Once the reality of this trip set in, we began to think that getting into shape would probably help. Neither of us are much into training, so the best we could come up with was running our stairs. I opted for sets of 50 with a heavy pack and Sandy ran 150 sets less the pack. The heat & humidity here makes any real hiking undoable and gym's cost $$$, so the air conditioned stairs in our home had to do. We weren't too worried because we knew we were only going to the Keyhole anyway.
In April, Sandy left her job and started pursuing her passion, photography. Finances became an issue and we spent most of the summer not sure we would even be able to make it out at all, much less the Keyhole. A miracle here and a miracle there and "Voila" we're on our way.
I grew uncomfortable with the attention of "Get Bill Up The Hill". It was after all, a group effort to summit, and Sandy & I knew we were only going part of the way. There came a point in early August that we actually quit looking forward to going because of expectations that we knew we couldn't fulfill. At times I wanted to post "I quit" and never log on again, but "quit" is something we seldom do...much to my chagrin. That so many friends would be there was the true catalyst...the opportunity to meet new Forumers and reconnect with friends we've missed was just too strong.
BZZZZZZZZZZZZZZZZ!
I freaking hate alarm clocks. Particularly when they are beckoning you to certain doom. I tried to summon up any possible ache or pain that would allow us to cancel, but dang it...I felt great!!!
We dressed, woofed down a quick breakfast and sped off to the Longs Peak Trailhead. We were met by Kristin, Monica & Rick's son Ben and his buddy Chuck. A few moments later Lori & Big Al drove up. With the 3 AM shift assembled it was off for the Keyhole, uhhhhhh, I mean Peak.
Anyone who has ever hiked that trail knows what a joy that first couple of miles are. Up, up, up, switchback, switchback, switchback. One thing I do love about the trail is that it crosses and re crosses Alpine Brook. You could hear it and feel its coolness as you approached on the switchbacks on this warm evening. We took turns leading and set a fair pace with plenty of conversation and jokes...in fact we only saw one other group until we hit Jim's Grove. For Sandy and I, not being passed on trail is something of a milestone. We hit the Grove just as the eastern horizon began to burn red. We took a short break and watched the lights of the cities of the Front Range lose their battle with the rising sun.
A glance to our left showed a line of head lamps following the Chasm Lake trail and then breaking toward Granite Pass directly ahead. The Jim's Grove trail is theoretically a short cut to the pass, but it's in pretty rough shape and actually slowed us down. Midway through the Grove, I managed to hang a boot on a rock and felt something pull in my right hip.
A way out!!!
The more I walked the more it hurt, so I began favoring it, which caused the left hip to start getting sore. I felt like a duck waddling across the Grove. I will admit to a certain disappointment that now, making the Keyhole was in jeopardy. We managed with a few breaks for water and air and finally arrived at the steep incline that leads to Granite Pass.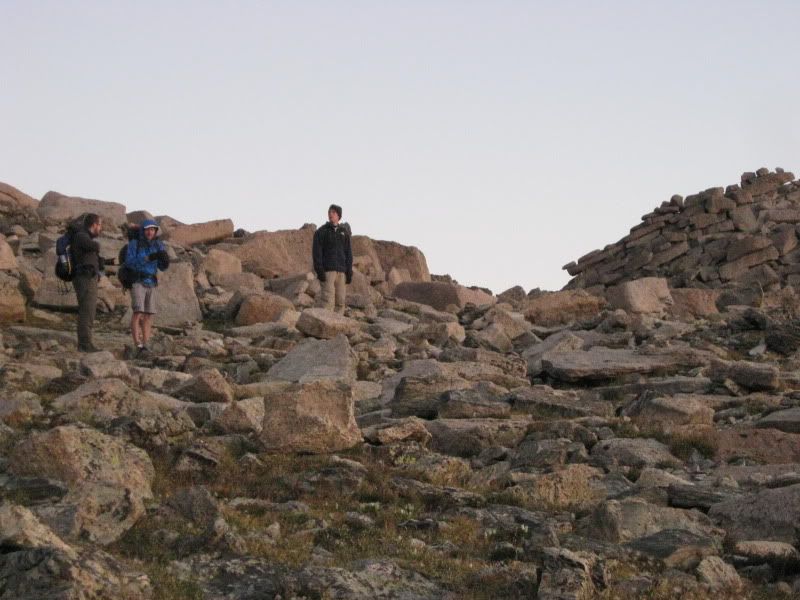 We took one last break, knowing that we would arrive at the Boulder Field within the hour. Al marched us up that last slope to the tune of William Shatner's "Captain Kirk Is Climbing A Mountain" blasting from his iPhone...it was perfect! We finally stepped onto the main trail and a few yards later crossed over Granite Pass into the howling wind. Kristin caught something in her contact lens and as she huddled behind a rock to clean the lens, we took advantage of the break to gear up against the cold wind. A few minutes later we were back at it. The trail from Jim's Grove to the Boulder Field is a treat…recently reworked, much of it is slabbed and smooth as a sidewalk, and it provided a much-needed break from the stumble waiting to happen that is The Grove.
We walk steadily uphill, focusing on each step, glancing up occasionally to watch the mountain slowly reveal itself, bit by bit. The summit block, the Diamond, Mt. Lady Washington, The Dove, The Keyhole (Thank God!), the Boulder Field all slowly scroll into view. At last the trail enters the Boulder Field and the panorama before you steals your breath.
I was not prepared for the immensity of that boulder filled plain. The Keyhole looks so far away. We drag along until we spot the privy's and to the left….John's camp (Irony or what??). John greets us with a huge smile and a bag of manna in the form of chocolate chip cookies and the rest of the crew welcomes us in to their home away from home. Big Al pulls me aside and commences to contort me all over the BF, in an effort to loosen up my right hip which is now getting to be downright painful. After a few minutes of playing human pretzel, the pain eases some what and we take a break in the camp. Sandy & I begin deliberating on what to do…stop now, push to the Keyhole or go all the way. We decide that the Keyhole is where we'll make the final call.
30 minutes of camp time and everyone grows restless (well...not everyone). Without a word, folks start grabbing their gear and moving toward the Keyhole.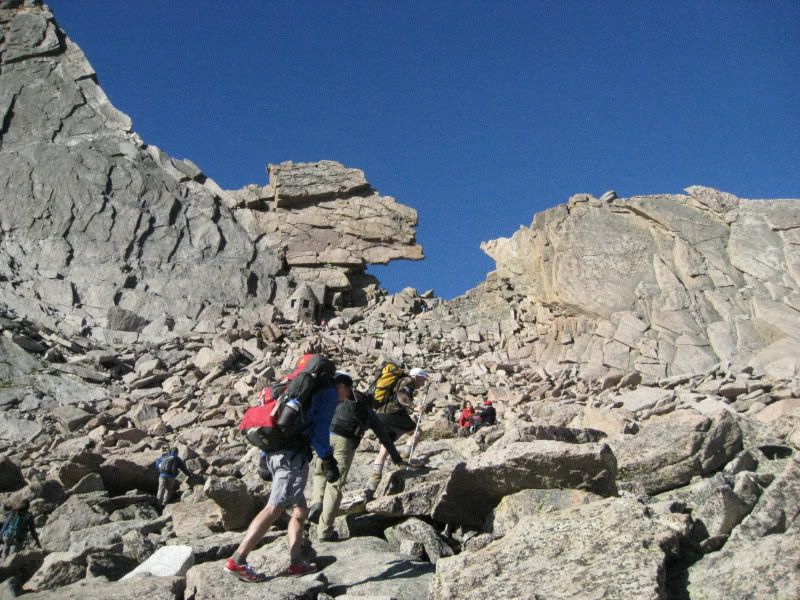 Big Al & Igloo Ed give us a heads up on what to expect ...strong wind and an incredible view. We're told to hurry through, step down and hang a hard left to a landing. I figure this is info we don't really need to know…we ain't going through. As we grow closer to The Blowhole, you feel a growing anxiety. It's hard to take your eyes off of it as it grows ever closer. My mind was racing as I tried to decide what I wanted to do. I was so distracted that I missed seeing an overhang until I smashed my dome into it. Stars exploded and I remember dropping to my knees, no clue what the heck happened. At first I thought "That's a sign from God" but decided that's really not how he works. I rubbed my bald spot for a bit until the burn subsided and continued on to the Agnes Vail Shelter next to our point of decision. I stopped to talk with Mike & Staci for a moment (Mike felt dizzy, so they were passing on the rest of the journey) and turned just in time to see Sandy half way through The Keyhole.
"Dammit! Betrayal! "
I had no choice but to follow.
That instant took forever. I pulled off my hat (I didn't feel like chasing it down to the Grove and the cool wind might ease the owwie), closed my eyes and crawled through. It was the most surreal moment ...a hundred things run through your mind, all in slow motion. You hear the deafening roar of the wind, voices behind and in front, anxiety and then peace. You sense that you're through it more than seeing it. I opened my eyes to an incredible view before me, and then I looked down...bad call. The ground came flying up at me in a blur and for a moment, panic started to set in. I caught movement to my left and recognized Al, Lori and Sandy on the rock shelf. It was then that I realized that our plan to turn around 20 feet back was pretty much (pardon the pun) behind us now.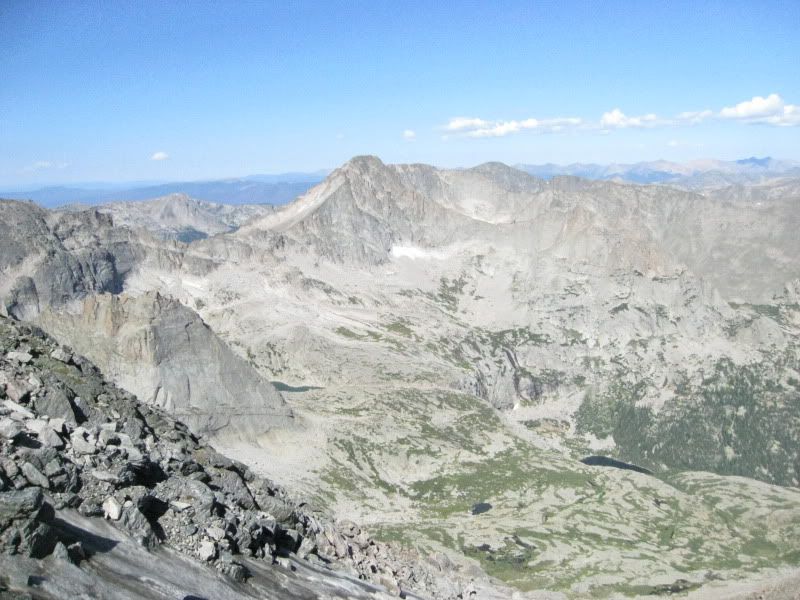 Lori had done the same thing I had, but where the ground had returned to where it belonged for me, it kept coming and crashed into her. She had vertigo pretty bad and the adrenaline had her legs jack hammering even as she sat. We sat with her for awhile, but that blast through the hole had done her in. I told her we were shutting it down and would head back with her, but she never acknowledged us. Sandy and I moved away to let Al & Lori have some space. 10 minutes passed and she finally headed back to the Boulder Field. My heart hurt for her, but I felt her anxiety too. She made the right decision.
Big Al asked if we wanted to go on, and before I could utter a negative word, Sandy answered...
"I feel physically okay. Let's try." Dadgumit...betrayed again!!!
Now it was Sandy's turn ...as we turned to begin the Ledges, she started hyperventilating...she was totally locked up. Al took complete charge. He walked along next to her, on the very edge, between Sandy and the exposure to our right. He calmly talked her though each and every step. Slowly, gently he led us across until we reached JD Green standing in front of the boulders that block the Ledges and the iron rod hand-holds you use to scramble up and over. He confessed that he was done, that the exposure was too much. Again, my heart went out to him. You could tell he wanted it so bad. We shook hands and then we launched over the bars to the other side of the boulders. It was at this point that the realization that my fear of heights had yet to manifest itself. I guess I was so anxious about Sandy that I had completely forgotten to wet myself and cry like I had expected. I felt completely comfortable up there! That made getting Sandy through that spot much easier. After clearing the boulders it's just a short jaunt to the Trough.
The Trough
...in the words of Smudge "The Trough & Homestretch just suck." True that. The relief of getting past The Ledges quickly gives way to despair. Staring up at 600' of rock, you know this is gonna hurt. I had read that this couloir has a 30 degree slope, but staring up it you get the sense that it's closer to 60...you be the judge. It's a slog, with plenty of loose rock & scree, and at 13,000 feet you're sucking major air.
http://i50.photobucket.com/albums/f313/bpowers2002/SP%20Longs/_MG_4057.jpg
To this point I felt we were making reasonable time, but the two middle aged (ha!) Flatlanders moved slowly. It was the "5 steps. Stop. 5 steps. Stop" method of climbing that Sandy & I had used with much success on previous hikes. I felt bad for Al, because I know he would have made it up in a tenth of the time. The Trough reminded me of driving around town. There were people going up, coming down, parked, careening out of control, taking wrong turns and cutting in front of you (and without a turn signal!). After what seemed like hours, Al tells us that the end is just a few yards ahead. He had to tell us because neither Sandy or I ever looked up. I can pretty well describe every rock on the way up, but have absolutely no idea what the views were. We're both energized knowing that the slog is over and that the most difficult sections are behind us, except...there is a big honking boulder (it doesn't really honk...that was the sound of enthusiasm falling into my boots) in the way. I had completely forgotten about the Chockstone. Big Al tells us that we can crawl up the left side of that honker using toe & hand holds, and that news just slays us. My hip, though feeling okay on straight ahead walking, was killing me after the Trough. The thought of my life depending on climbing over a rock with a Jell-o right hip was a bit disconcerting. Then God sent a miracle. A voice from above the Chockstone called out,
"Anybody want to use the rope before I put it up?"
A group of climbers were descending after summiting via Kepplingers and had used a knotted rope to down climb the Honker. Sandy looked up and asked
"Really?"
while at the same time grabbing that rope for all she was worth. She climbed as I pushed, then I grabbed the rope and followed. Al had decided to scramble up the Honker and beat us to the top. We took a short break there and Al filled us in on what still lay ahead. We were to cross the Narrows and then finally, The Homestretch. We were close. We found that "close" is a relative term.
The Narrows
...by now Sandy had recovered from any signs of anxiety and we made pretty good time across this section. The exposure is still as bad as The Ledges, but the slope into Wild Basin seems a little less severe, which gave us a better feeling of security.
http://i50.photobucket.com/albums/f313/bpowers2002/SP%20Longs/021.jpg
Sandy even started to pull her camera out on a regular basis... a sure sign that she was feeling comfortable. This section passed quickly and soon The Palisades and Homestretch came into view. "Almost there!" Al announced. Buoyed by that information we quickened the pace until we finally hit The Homestretch.
And then I cried.
The Homestretch
...a near vertical wall of slick, cracked granite, probably half the distance of The Trough. The granite, worn smooth by 100,000 pair of boots over the years, dictates that you use the cracks to ascend. Sandy felt more comfortable scrambling up using her hands and feet, but Al & I found the going easier just leaning into the slope and stepping up.
http://i50.photobucket.com/albums/f313/bpowers2002/SP%20Longs/_MG_4060.jpg
The wheels came off the wagon for me half way up. Despite Big Al's Magic Elixir which had kept us energized the entire climb, we were beginning to run out of "can do". By now my hip was throbbing and each step hurt more than a little. Worse still, I couldn't get my heart rate down. I have a big issue with high blood pressure and promised my doctor (that wuss didn't want me to make the climb) and Sandy that if I felt it getting out of control, I would shut it down. Regardless of where we were, I would stop. She was pretty adamant about it, and I swore to her I would let her know if I reached that point. Well...I reached that point. But I didn't tell her. I hung back under the pretense of "giving her room to climb" hoping that I could settle down, but the hip, altitude and exhaustion weren't helping. About 20 foot from the summit she busted me. I told her I wasn't turning around this dang close. She would have said the same thing. We stood there for a few minutes as I tried to get something to settle down, but it didn't look good. There was nothing left to draw on. And then another miracle. We heard voices and looking up, see our Forums friends peering down at us from the summit. It was like a shot of adrenaline seeing those smiling faces, shouting down encouragement. Without another word we climbed the remaining distance and stepped onto Madame Longs. What a feeling! Everything was forgotten except the joy of standing there, shaking hands and hugging everyone in sight.
The Summit
...we visited for a few minutes with everyone, swapping stories and a laugh, but they had been there waiting for awhile and it was time for them to leave. We walked them to the door and waved goodbye as they began the other half of the journey. It was just the 3 of us and two other climbers, on top of Northern Colorado's tallest peak. We surveyed the landscape. Flat and boulder strewn with views that made it all worth it, Longs is all I had hoped it would be. We signed the summit register, shared a Red Bull (God, did that ever taste good!) and I found a flat rock to lie down on.
http://i50.photobucket.com/albums/f313/bpowers2002/SP%20Longs/_MG_4074.jpg
I was feeling better, it just felt like the thing to do. I lay there, with my hat over my eyes and listened to the sound of 14,255'. The wind...the silence...the peace, and that damn heart beat. We had done what I had given us zero chance to do. I won't say I got all misty eyed and emotional, but I won't say I didn't, either. My trance was broken by the sound of Chatty Cathy and her daughter topping out. Chatty was celebrating her 50th birthday that day and had this on her Bucket List. Scratch that one off Cathy! A toast with the Red Bull and a few pictures with her and we were ready to go.
http://i50.photobucket.com/albums/f313/bpowers2002/SP%20Longs/_MG_4063.jpg
As we gathered our gear, two climbers approached from the east (I never thought to ask what route they had taken) and settled near us. I got my biggest laugh of the day as they berated each other over both of them thinking the other had brought the beer. I enjoy a cold one now and again, but the thought of sitting at 14,000 feet with a down climb ahead of me under the influence didn't even sound like a good idea. I guess if I were a local....
Heading home
...aside from wearing out the seats of our pants sliding down The Homestretch and The Trough, the trip to The Keyhole was uneventful. This time we were able to stop and take in the views. I remember coming to the base of The Homestretch and looking at The Narrows and wondering how in the heck we had navigated that! From that angle there is no discernable trail, but as you approach, it magically unfolds before you. By now all fear of exposure had disappeared and the climb down became a stroll. Down climbing the Chockstone was easy as pie (pie!) and Al showed us a route above the iron bars that proved much less fearful than on the ascent. Returning through The Keyhole we were now faced with traversing The Boulder Field. Eight hours earlier this place had been crawling with hikers, but now lay empty except for the three of us. We were tired and thirsty (we had run out of water back on The Trough) and couldn't make out the trail that had been there earlier. Al scurried about looking for an easy way, but it wasn't to be seen. Al had wrenched his right shoulder earlier and you could see the pain in his face as he used the arm for balance. We were a sad looking bunch, slowly picking our way boulder to boulder to the tents below. We arrived at camp and were greeted by John, Lora, Allen and water! It was then that we learned of Rick's misfortune. Knowing that he had hiked down on one leg just blew me away. You can't understand what a super human feat that was. Rick...you are one tough hombre!! We rested and visited and finally it was time to head back. We picked up the trail easily and soon left the Boulder Field and Longs behind us. There was concern over whether or not the Rangers had been notified about Rick, so Allen raised the 911 operator on Big Al's phone (that thing had sure proved its worth that day) and passed the word. Big Al then sprinted (I kid you not...he sprinted) down the trail to let Monica & Rick know that the Rangers would meet them at the Chasm lake Junction. Al told us he would hook up with us again in Jim's Grove. Lora, Allen, John, Sandy & I started down trail towards Granite Pass on that wonderful sidewalk of a trail. Someone had left a rock on the sidewalk and Sandy found it, twisting her ankle. Not quite as bad as Rick's, but it did put a hitch in her get along.
Al rejoined us at the Jim's Grove cutoff and we swung down for the long trudge home. We were moving slowly and holding up the campers and their heavy packs, so they moved on ahead with our blessing. Big Al proved invaluable again as he took us on a side trail that proved easier to manage with fantastic views and a waterfall. This is an area I need to get to again.
The rest of the hike out was uneventful until 1/2 mile from the trail head. There's a little wooden sign that tells you
"You ain't there yet, Ha Ha."
That sign just irked the hell out of Sandy. It took both Al & I to keep her from tearing that sign out of the ground and smashing it to bits. We hiked the rest of the way down seething at the Park Services insensitivity. Lie to us...something like
"Almost there!"
would be much more appropriate. At long last...the trail head, and sitting there waiting for us were Lora, Allen and John. We shared water, swapped stories and then, with one mind stood, walked to our cars and headed for the house.
We arrived at our cabin 25 minutes after we left. We more fell out of the car than climbed out. I was thinking that if I had been stopped by the cops I would have a hard time convincing them that I hadn't been drinking. The legs were like rubber. We heard our names called and turned to find Prof Hall and his son Aaron waking towards us. We were to have met them for dinner that evening at 5, but since 5 had found us at the Keyhole we had called to cancel. John & Aaron had waited at the cabins for our return. John thrust out his hand in what I thought was to shake hands to find a bundle. They had bought me a Longs Peak t-shirt in celebration...it was icing on the cake! Thanks Prof...what a wonderful thing to do!
Well, that's about it. A little wordy, but since I didn't think to pull the camera out very much, I substituted words for snapshots. The day had begun 18 hours earlier, with no doubt in our minds that we were going no nearer the summit than the Keyhole. 20 something Forumers had loved us the rest of the way. I can never repay you all for what you did for us that day. I will never look at Longs Peak again without remembering what a difference you guys made.
Have I mentioned that we made it to the top of Longs Peak?
Yep.
With my Forums family, whom I love.
Bill
Edited by Bill 007, 04 September 2010 - 10:33 PM.