Ok. . . . I know there have been tons of Long's Peak pictures and stories, and I hope you guys aren't sick of them just yet, but this was one of the most monumental accomplishments (and blessings) of my life, so here's one more story.
One of the reasons it meant so much to me was because before it happened, I felt so insecure about my abilities to make it. I had been warning everyone at the GTG, and at McGregor, that I didn't think I was strong enough to finish. I was terrified of the heights (even on the ground, and it got 100-fold worse when I was actually standing on a ledge in the middle of the sky, hugging a wall I was certain would give out and find me tumbling to the ground 14,000 feet below right in front of my forums friends). I feared that at the part of the hike where it was the most important to focus and be strong, I would be weak and weary, and would stumble over my toe. . .right over the edge. I actually wondered if I was even strong enough to get to the Keyhole. The whole thing produced so much anxiety!
So, the night before, we had dinner with Al & Lori at Mary's Lake Lodge (OMG. . .what a WONDERFUL discovery THAT was!!!) Alan helped calm my fears so much. I think it was the realization that Alan is so
amazingly
accomplished on those mountains! And he had completed 17 summits of Long's Peak. So his reassurances that he was going to be with us every step of the way went a long way towards infusing just a flicker of hope that
mayyyyybe
we could do it.
We were up at 1:30 am, and on the trail at 3:15am with Kristin, Ben, Chuck, & Lori & Big Al.
The first picture I took was in Jim's Grove just as the sun was coming up. It was so beautiful, even the steeeeeeeeep hill we had to climb at the end didn't take away the beauty.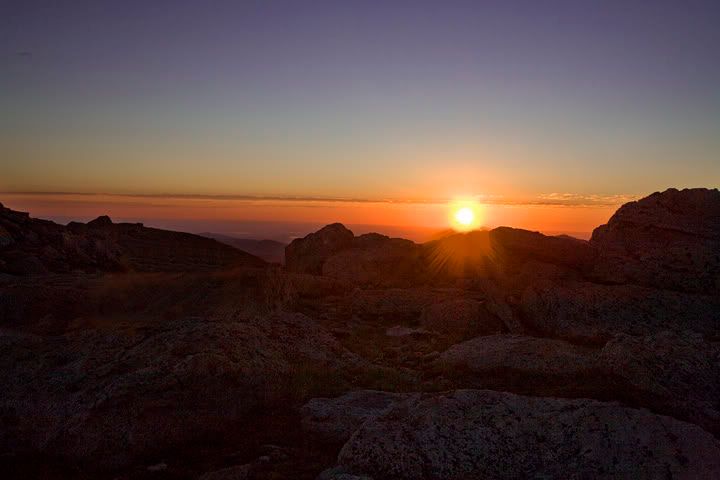 This is Alan, Ben & Chuck at the top of "the hill" at the end of Jim's Grove. If you look closely, it looks like Ben is sleeping on Chuck's shoulder :) I loved how the moon was still up even as the sun was coming up. That steep hill was a cruel thing to put at the end of Jim's Grove. There was quite a bit of huffing and puffing going on about then.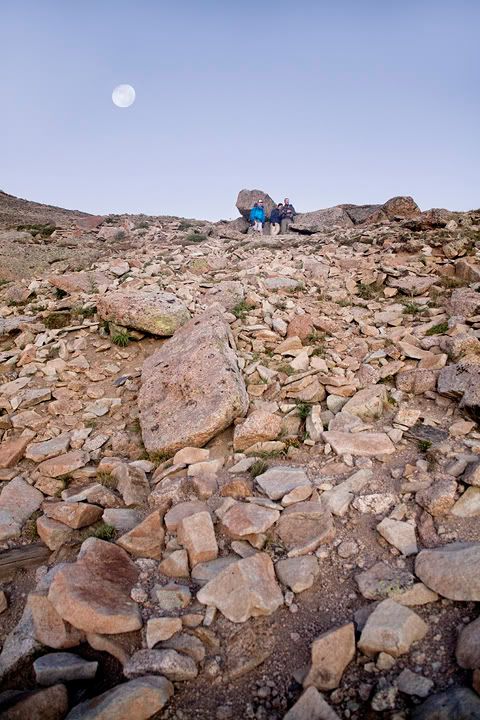 But
finally
we made it to the Boulder Field. That in itself felt like a pretty cool accomplishment. Especially when we saw our friends waiting for us -- smiling, happy to see us, cookies and water in hand. I know it sounds corny. . .but I felt so much love for my Rocky Mountain friends as we got there and happily shared our adventure together. I wasn't sure how much more of the adventure we were going to be able to share tho, because Bill had twisted his hip on a misstep in Jim's Grove, and every step was excruciating. As I looked at the uphill climb to the keyhole, I felt like we'd be doing good if we made it up there as badly as he was hurting. But. . .. Big Al to the rescue. He took Bill and did some hip stretching exercises with him, and voila. . . he wasn't quite good as new, but he was once again willing to give it all he had, so off to the Keyhole we went: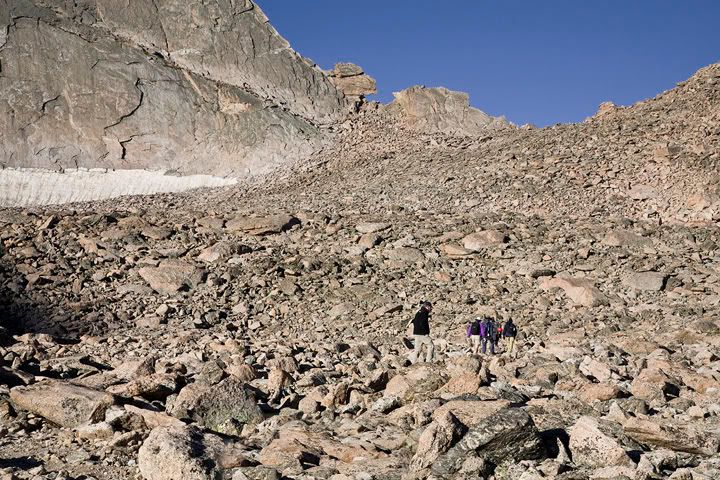 Here's Lora & Allen making their way up too. And I think that's John, Ed & JD Green up ahead of them: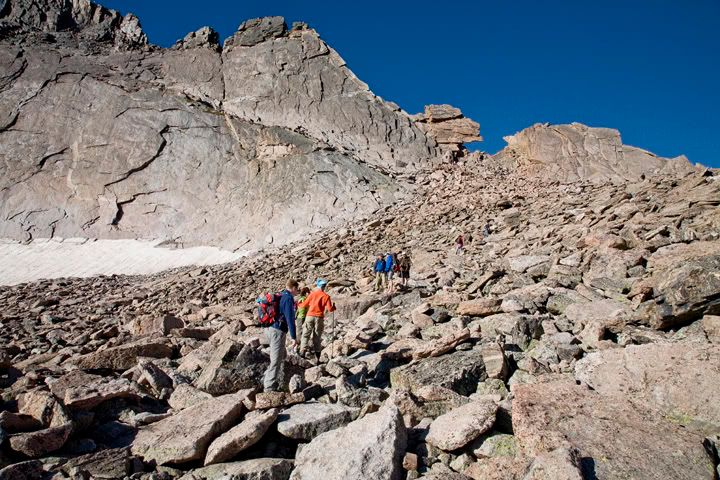 What an adventure scrambling up those boulders!!!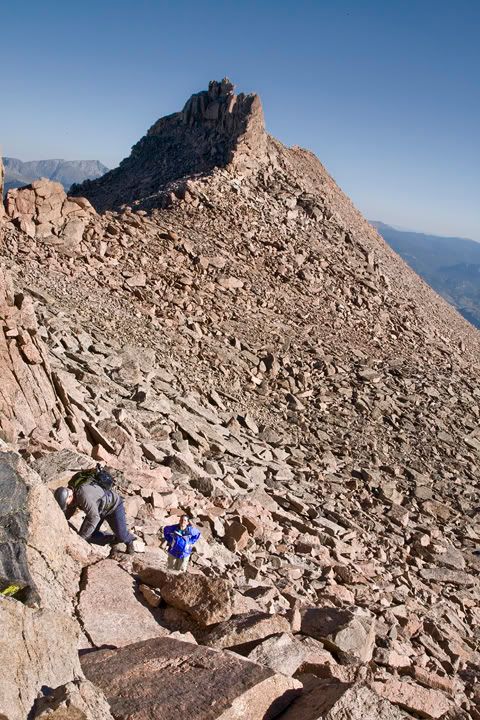 Alan & Lori. . . alllllmost there :)
http://i50.photobucket.com/albums/f313/bpowers2002/SP%20Longs/_MG_4022.jpg
OK. . . heeeeeeeeeeere's where the bottom falls out of your heart and you see what you are made of. As we poked our heads thru the Keyhole, the wind was blowing at what felt like several hundred miles an hour (Alan said it was about 40, but it
felt
like several hundred). And I can't even describe to you the feelings you get when you peer thru that window and see the entire planet laid out before you! With just a small little ledge to step on (did I mention that the wind could blow you off with half a puff?????) Lori went first, then me. When I got thru, I saw Lori hugging the wall, looking pale and woozy. My first reaction was genuine concern for her because she has always been so easy and full of life and "can do". I had never seen her looking so vulnerable and frightened and it shook me up. But then. . .for a split second, I took my eyes off Lori, and saw my own self on that ledge, and a terror filled my entire being like nothing I had ever experienced in my life. It felt almost like my mind and heart were not in my body, but I found my body involuntarily heaving with emotional sobs. I couldn't go back. I couldn't go forward. I didn't want to be there because I thought that at any second I was going to be blown off that ledge like so many others we'd heard about. All I could do was panic and cry. And the strange thing was. . .I didn't even know I had a fear of heights like that. Bill thought he did, but not me. But here I was in a panic attack like I'd never experienced in my life. And Bill, the one with the fear of heights instinctively went into his gallant protective mode and was as cool, calm and reassuring as if he did this every day. He told me later that his concern for me made him totally forget about his own fear. But the verdict was: There was noooooo way I would be able to stand up on that ledge and start making my way across that skinny little obstacle course in the sky. Bill was afraid for my fear and also for Lori's and said, "We're shutting it down." I couldn't disagree -- because I couldn't speak. I was still emotional and freaked out, but all of a sudden it dawned on me: "Hey. . . I'm not physically spent yet! I could easily continue on physically." And something inside just rose up and decided, "I am not giving in to fear because physically, I can do it!" Sooooooo, I stood up (still crying), hugged that wall and slowly (verrrrry, ever so slowly) started inching myself towards the next hurdle.
http://i50.photobucket.com/albums/f313/bpowers2002/SP%20Longs/_MG_4029.jpg
The BARS!!!!! It was one of the scariest parts of the hike. There's a big rock in the middle of the trail, and the only way you could get past it was to hold on to these slippery metal bars and pull yourself over them. I still don't know how I managed to do it. I think I must have fainted from the fear and instinct took over. This was as far as JD could go. My heart went out to him tho because he wanted to make it thru so badly, but in the end, he would pass the bars, but just couldn't go any further. Here's my tribute to our friend -- knowing FULL well what he was going thru!
http://i50.photobucket.com/albums/f313/bpowers2002/SP%20Longs/_MG_4036.jpg
I didn't take too many pictures along "The Ledges" because. . . well. . . I thought I'd die if I let go of the wall. Because I have to say. . . there really is not "a trail" up there. It's like a bunch of big rocks on the side of a mountain that somehow you have to maneuver steps around. Being careful that none of the rocks are loose or else. . .you know. .. But here is one I took looking back at the Ledges
http://i50.photobucket.com/albums/f313/bpowers2002/SP%20Longs/_MG_4045.jpg
(continued)
Edited by SandyP, 02 September 2010 - 06:22 PM.